Our Governors and their roles
2022-23
Our Governors
Our Governors are always willing to hear from anyone with a comment, an issue or a concern, though formal complaints should follow the Complaints Procedure. To contact the Chair, please e-mail chair@cranham.gloucs.sch.uk
Vacancy
Ex-Officio Governor – Current term of office 04/11/2019
Governor attendance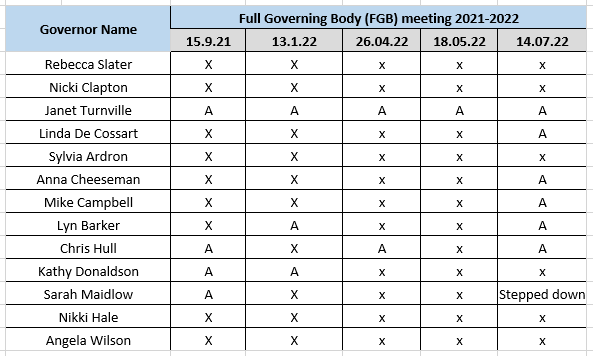 Link Governors
Each year group has a Governor who will follow their progress as they work through the school.
Additionally, the Governors of Cranham Primary school have a subject or curriculum area they are responsible for supporting and monitoring alongside the respective member of staff:
Remit of the Governing Body
Governors are responsible for a number of areas including attainment, finance, policies and procedures. Their role involves working closely with the Head Teacher, as critical friend providing challenge and support to ensure that every child can grow academically, socially, morally, spiritually, culturally and emotionally and create relationships underpinned by our Christian values. Together we aim to ensure all those who are touched by our school share our journey – love, live, laugh, learn.
What are the Governing Body's core responsibilities?
Establishing the strategic direction, by
Setting the vision, values, and objectives for the school

Agreeing the school improvement strategy with priorities and targets
Meeting statutory duties Ensuring accountability, by:
Monitoring progress towards targets

Performance managing the headteacher

Engaging with stakeholders
Contributing to school self-evaluation Ensuring financial probity, by:
Setting the budget

Monitoring spending against the budget

Ensuring value for money is obtained

Ensuring risks to the organisation are managed